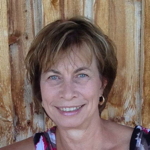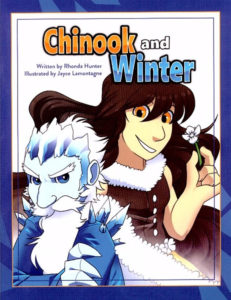 By Derrick Grose
CSL Journal editor Derrick Grose interviews children's author and teacher-librarian Rhonda Hunter about her new picture book, Chinook and Winter, illustrated by Jayce Lamontagne and published by Pemmican Publications.
I understand that you have more experience as a teacher-librarian than you have as an author. What do you like best about working as a teacher-librarian?
Being a teacher-librarian is the best teaching position ever! I have loved it. At Ross Glen Elementary School in Medicine Hat, I took over from an incredible teacher-librarian. I tried to emulate her the best I could by working with teachers and educating students with research and sharing stories. There is so much I love about being a teacher-librarian. Connecting with authors is wonderful. Sharing a love of reading is wonderful. At the high school level, I also loved working with technology and sharing that with students. We had over 200 students in the library every day. They would be reading, doing homework, visiting, using technology, creating and so on. In fact I overheard a young girl say, "I didn't know the library was the coolest place in the school!"
Before becoming a teacher-librarian, I had taught all over Saskatchewan from kindergarten to adults. I was also fortunate to have poems featured in Prairie Jungle published by Coteau Publishing, and a friend and I rewrote the social studies section in Passing the GED published by Gage.
What do you perceive as the greatest challenge faced by teacher-librarians in today's schools?
Having teacher-librarian funding as part of the classroom funding formula leaves administrators with an untenable choice. They have to make the difficult decision to hire a teacher-librarian or hire more teachers for a lower teacher/student ratio.
There is so much a teacher-librarian could offer – selecting novels, research assistance, technology implementation, creating and so much more. Because of easily accessible information on the Internet and the proliferation of social media, the general public and many teachers think that students know how to research. With fake news and alternative facts, it is so crucial for students to have the help needed to sift out the truth. But until funding is in place to hire teacher-librarians, students may miss out on a fundamental part of their education.
How did working as a teacher-librarian help you in writing a children's book?
When I was working as a teacher-librarian in an elementary school, I read so many well written picture books. I tried to include what had resonated with children. This incorporated writing about the life around them and using vocabulary that might challenge them. Little children loved repetitive verses that they could say along with me when I read to them, so I included that as well.
What inspired you to write Chinook and Winter?
When I first moved to Alberta from Saskatchewan, I did not like chinooks. I thought winter should just be winter – with snow and cold for several months. I didn't like how we seemed to have spring for a while and then we went back into frigid temperatures. I didn't like the winds that melted that snow and caused ice to form.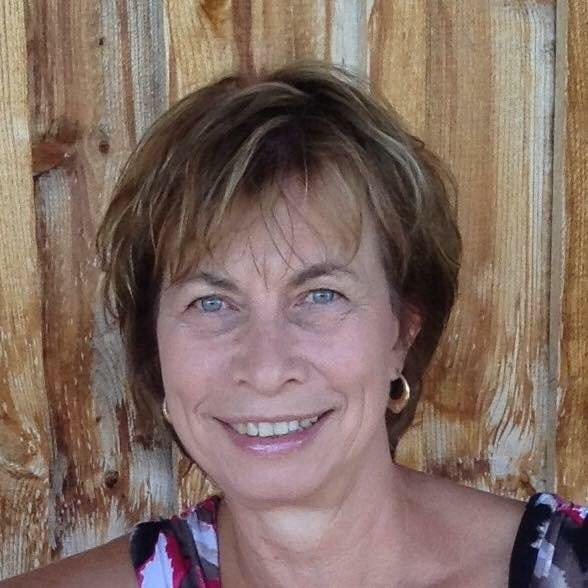 However… the next year, I looked forward to that relief from the cold and snow – I had come to love chinooks! And then one year we didn't have even one chinook – I was devastated! I would walk my dog in the coulees in all the snow and think about what could possibly have happened to Chinook. I mulled the story over and rolled it around in my head and then it came out in one sitting on the paper.
How do students respond when they learn that you are a published author?
There have been many varied responses, the best, however was from two grandsons – cousins who are both seven years old. Davin was awed when he found out Grandma had written a book. He couldn't believe it. He was thrilled when I signed the book and gave it to him. When I gave the same book to Julian he said, "Nah, I'm not into books."
High school students are so gracious. When they find out, they congratulate me and seem so pleased. We don't need to worry about the future – the majority of our young people are delightful and dedicated.
How did you come to work with illustrator Jayce Lamontagne who has been described as "a young prodigy"? Did you work together on the book or did she simply illustrate the text that you had already written? What do you like best about the way she illustrated your story?
Jayce is the reason the book was published. She is simply an amazing young woman and so wonderful to work with. Her mother and I were friends from a long time ago and we reconnected a few years ago. She used to say her daughter was an artist, and I thought she had the usual mother-biased glasses on. Then when I saw her work, I realized the talent she had. At fourteen years old, Jayce agreed to illustrate Chinook and Winter. Since she lived in Regina and I'm in Medicine Hat, the communication was all through email. She was so accommodating and easy to work with. Her emails were so articulate, confident and charming.
I sent one page to see if she was interested and she sent back a sample illustration. In my mind, I was picturing Yvette Moore type illustrations with wide open prairies and detailed realistic images and people. When Jayce sent back a sample of what she drew from my words, I was blown away. It was so vibrant and shocking and full of action. I was thrilled! As Jayce wrote to me, "I wanted the illustrations to have bright/vibrant colours and characters who didn't look necessarily human to try and capture kids imagination and their fascination with things that are mystical/fantasy. This is also why I went with a more "cartoony" look."
After seeing that first page, I knew Jayce would create wonderful illustrations – and she did! She is a self-taught artist who works mainly on a Wacom Bamboo tablet. She has been drawing with a tablet since she was ten and she tries to practice drawing every day. Jayce graduates from Grade 12 this year and is registered in Interactive Design and Technology at Saskatchewan Polytechnic in Regina for next year. She likes to design her own characters and hopes to eventually create her own comic series. I'm including a link to her YouTube videos as an example of her work.
What is even more special is that she represents the modern day Aboriginal artist. She is the example that Indigenous peoples are alive and thriving and aren't just people who we remember from the past.
Do you have another book project in the works? If so, what is it, and what attracted you to the project?
Pemmican Publishing is considering another book that Jayce and I worked on. It is called Seasons in Sakitawak. It goes through a year in Sakitowak and represents what I experienced when I taught in Northern Saskatchewan. Jayce's mother helped with the Michif words I wanted to include. It shows another side of Jayce's talent with softer more dreamy illustrations. It is absolutely beautiful.
Why do you think children's picture books like Chinook and Winter are important?
Sometimes we don't realize that we have stories to tell because we are so familiar with our life. We don't realize that our yearly chinook winds shape us and how we feel about winter, Alberta and Canada.
This book tells our story of Canada – and Alberta in particular. Knowing who we are and that we have a story makes us proud of being Canadian. It is our identity.
What do you like best about writing children's books?
I love children. They are innocent, wise, and truthful. There is nothing better than reading a book to an engaged child. They make you precise; they make you question. Their imagination and curiosity is what made me want to write for them.
Have you considered trying to write for your high school audience? What would be the greatest challenge in such a project? What was your favorite story book as a child? How does you own book compare with that book? What would be the one book that you would recommend for almost any high school student? Why would you recommend it to such a diverse audience?
That is a very difficult question. As a teacher-librarian, I try to match a student to a book. And there are so many great books and so many interests. However, after saying that, I have often recommended the Unwind series by Neil Schusterman to all students. It has a powerful message about society and what we do our weakest members. It's about conformism, breaking free, compassion. It also empowers those so-called weak members. It gives us hope that we can fight against those who control the world for greed and that our world can be a wonderful place to live. It seems rather appropriate for our times, doesn't it?
What is your favorite book as an adult? What is its appeal for you?
At this moment, my favourite book is Forgiveness by Mark Sakamoto. It is a book that again tells our story. Mark grew up and went to school in Medicine Hat. He wrote about his grandmother who was one of the many Japanese relocated from the West Coast to the prairies during World War II and about his grandfather who was a POW in Japan. The Sakamoto name is known in Medicine Hat and, of course, Mark uses our city's landmarks and names towns that we all know. Mark also had a secret part of his life that no one knew – not even his best friends.
Is there anything else that you would like to share with our readers?
Living in a city the size of Medicine Hat has offered the opportunity for all libraries to connect. We have a great working relationship with the college, public library, rural and school libraries. Because of this connection, we have been able to offer so much to students and teachers. We can offer seamless service from preschool to college. We even have our own reading promotion with all the libraries called Top Hat Teen Reads. We select ten novels from all genres every year to promote and to encourage students to read. Of course, we always ensure we choose at least four Canadian authors.
I have also been fortunate to have worked for the school district in Medicine Hat. The District has long recognized the importance of libraries in students' learning. Because of their vision, we have had strong and vibrant libraries staffed with trained teacher-librarians and committed library assistants. Hazel Hutchins, an author from Canmore, Alberta even dedicated a picture book to the "Merry band of teacher-librarians in Medicine Hat."
Congratulations on all of your work as both a teacher-librarian and author, and thank you for taking the time to tell us about your work!
---