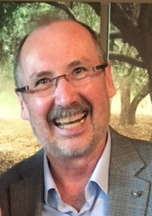 Winnipeg, Manitoba
By Kathleen Atkin
---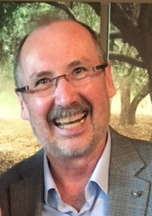 What makes a great teacher-librarian the ideal learning leader to nurture literacy and learning in our schools? Perhaps someone who grasps the "big picture" potential of a learning community? Or an experienced collaborator who models effective learning strategies, through co-teaching and collegial mentorship? Someone who demonstrates a broad understanding of curriculum, student learning, and assessment practices? Someone who leverages emerging technologies and engages in personal professional learning? If these are the indicators of the quintessential teacher-librarian, then there was no better exemplar than the incomparable Kevin Mowat, Library Learning Consultant from Winnipeg School Division.
On September 5th, 2017, our education community lost a most treasured friend and colleague. For many of us working in school libraries in Manitoba, Kevin Mowat was that exemplary mentor and leader who inspired, motivated, and advocated our work as school library personnel. Always modest and humble, he believed strongly in the power of authentic collaboration, and demonstrated generosity in his ability to recognize and encourage the potential in others to be successful. Kevin developed strong relationships with colleagues and empowered each of us to be better school leaders as per his example.
"No matter who you were, Kevin made you feel special and that you could do anything. He did it with me, and I watched him do it with others. He loved school, he loved libraries, and he loved serving kids and staff." – George Couros (Twitter, September 6th, 2017)
Stewardship and service are fundamental tenets of librarianship which Kevin Mowat honoured throughout his 40+ years in education. His dedication to the profession was always evident in how he championed our core values such as learning, literacy, equity, and democracy. He believed in our shared responsibility as school library personnel to move learning forward, to meet the emergent needs of a new generation – reimagining the library as a learning commons, embracing technology, providing equitable access for all, and fostering learning partnerships. Kevin advocated that the needs and learning priorities of our students, our schools, and our communities are the targets that guide our work. He reminded all of us working in school libraries that there is a reciprocal relationship between leadership and stewardship.
Kevin knew that the work of the library is always at the heart of the school's purpose. In addition to promoting the instructional role of the teacher-librarian as a learning leader, Kevin was successful in aligning the school library more directly with classroom instruction, student learning and assessment practices. He was proactive in developing inclusive resource list recommendations to support Human Diversity: Gender Inclusion Core Collections for the benefit of all students and staff. He also expanded views of what it means to be literate in today's world – successfully leveraging social media opportunities and introducing access to virtual library collections. He was passionate about exploring how libraries are essential partners in cultivating a culture of innovation within our schools and collaborated with colleagues to implement a new design thinking process model across his division.
"One of the things about having an online connection is that people like Kevin shine a light in your in your life, sometimes without them knowing it, and definitely from afar on a map – but very close in social spaces." – AJ Juliani (Twitter, October 5th, 2017)
Kevin Mowat truly personified today's learner in how he approached his own personal professional learning. For thousands of followers on Twitter, Kevin sourced, curated and shared new ideas on a daily basis. His Twitter feed engaged a variety of diverse educators such as school library personnel, classroom teachers, coordinators, administrators and superintendents, but it also attracted innovators, designers, scientists and social media gurus. He was eager to learn from the experience and expertise of others, and he actively sought out learning opportunities beyond the world of school librarianship and challenged us to do the same.
"Kevin online was Kevin in person… Kevin's colleagues clearly fed off his positive vibe. I often thought that Kevin was a great example of how friendship is changing in the digital world." – Chris Kennedy (Twitter, September 7th, 2017)
Throughout his career, Kevin contributed to numerous professional organizations in service to school libraries in Manitoba, as well as membership on national executives – President of the Manitoba School Library Association (MSLA), a member of the Canadian School Library Association (CSLA) executive, and a member of the Council of School Leaders (COSL). In 2016, Kevin was recognized with the Manitoba School Library Association Distinguished Service Award for his invaluable contribution to school libraries in the Winnipeg School Division and across the province of Manitoba. Kevin was always at the forefront of new ideas, and it is his vision that continues to guide and inspire us – to consider new perspectives, to rethink professional learning, and to model a learning lifestyle.
Kevin's email signature often cited the Jorge Luis Borges quotation, "I have always imagined that Paradise will be a kind of library" – an offering of comfort as we remember and miss our dear friend and colleague when words fall short.
---
Kathleen Atkin is the Coordinator of Library Services | Louis Riel School Division | Winnipeg, Manitoba.
---